How I Knew Cross Pens Were Perfect for Me (2021)
Daniel Whitehouse .
Jan 12, 2021
This is the story of how I discovered that Cross pens were the perfect pens for me.
I first started my search for the perfect pen when I began my first job. Previously, I would roam campus with a laptop, and barely write anything down. 
In the office, however, I found myself attending numerous meetings, and lugging a laptop around was just no longer practical. 
Seeing that I would be making copious notes, some of which I had to share with colleagues, I realized that I couldn't resort to my usual chicken-scratch writing.
I tried using some high-end ballpoint pens, then some rollerball pens, and eventually even tried a fountain pen. 
After a few highs and lows, I finally found my perfect pen. Cross proved to be my savior. 
Let me take you through the process of how I learned Cross pens were perfect for me. 
What Pen Options Did I Try?
Ballpoint Pen

Image from: unsplash.com by Antoine Dautry
Ballpoints are probably the cheapest, and most commonly found writing instrument. 
Invented by Lazlo Biro, who grew tired of the smudges and constant refilling that typified fountain pen writing, he created a pen that only writes when the ballpoint tip is in motion. 
I found this pen appropriate for writing only for short periods as the ink tended to clump, needing you to apply considerable pressure. 
The viscous ink, however, will rarely smudge and it lasts a long time so it is convenient for everyday use. 
Pros of ballpoint pens include:
Minimal mess
Low maintenance
Cheap
The cons are:
Limited in tip size and color
Rollerball tip may get stuck
The ink may congeal on the tip
Easily broken or damaged
Rollerball Pen

Image from: unsplash.com by Jess Bailey
Made with water-based ink, rollerball pen designs are similar to ballpoints. The water-based ink, however, soaks into the paper more than with ballpoints. 
This makes it appropriate for writing for long periods, requiring minimal pressure. 
Some of the biggest pros of rollerballs are:
Ideal for fast writing
Smooth and easy flowing ink
The cons include:
Possibility of overflow and smearing
Ink is not very resistant to wear
The written lines do not offer as much variation as fountain pens and ballpoints 
Requires refilling
Fountain Pen

Image from: unsplash.com by Aaron Burden
Used mostly in business settings, these pens have a tip similar to quills. But instead of dipping the tip into ink, the ink is stored in an internal well. 
Fountain pens can be quite expensive initially, and also require long term maintenance and refills. 
For rapid writing, they are smooth and produce neat looking notes.
Fountain pens are a good choice because:
They are stylish and elegant
Perfect for fine writing and note-taking
The cons include:
It may leak
The vulnerable tip is easy to break
Requires some maintenance & refilling
Gel Pen

Image from: unsplash.com by Dan-Cristian Pădureț
Gel pens can be viewed as a hybrid of a rollerball and a ballpoint. The water-based ink has a gel-like consistency, reducing smudging, and promoting smooth writing. 
They offer the reliability of ballpoints, with the comfort of rollerballs. They are, however, more appropriate for intricate drawing and shading.
Pros include:
Available in a wide range of colors
Ideal for dark lines and bold colors
Easy ink flow
Waterproof and fade-proof
Cons of using a gel pen include:
They may not write on all paper types
Requires some pressure to avoid skipping
Long drying time so may smear
What Features Did I Look For? 
So, I had my options lined-up and was wondering how to decide. I had to look at different features such as:
Point-size
Type of ink
Color options 
These characteristics can enhance your overall writing experience with a particular pen.
Another key aspect I focused on was comfort. As I'd be using the writing instrument for long periods of time, this was a key feature I could simply not compromise on. 
The pen needed to fit properly in my hand, but not be overly thick. On the other hand, if it was thin, I would struggle to maintain a firm grip. 
Cross was an obvious place to look.
Why Did I Choose Cross Pens? 
Cross Pens have a 170-year-old history and are the oldest manufacturer of writing instruments. 
Founded by Richard Cross, and named after Alonzo Townsend, the original Cross company was formed by a long line of jewelers. Richard Cross then started making pencil cases. 
They created the first stylographic pen, the ancestor of the ballpoint pen. 
Cross' original fountain pen design originated from that of a Canadian chemist. He modified it with a spring to increase performance and make a fountain pen-like instrument.
By using design aspects from Cross stylographic pens and ink, leakage was reduced. 
Cross fountain pens were first produced in the 1930s with a distinct metallic design and gold bands. This was the pen that helped Cross cement its role in the industry. They then followed with the release of ballpoints in 1953.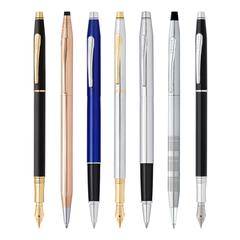 Cross Classic Century Pens
Cross Pen's have the esteem of being known to be presidential, having provided pens to the White House from 1974.
It was this long and storied history that made Cross my choice of writing instruments. Cross pens are the epitome of stability and style, an elegant tool that promotes class and sincerity.
Why a Cross Pen Could Be Your Perfect Pen
So I'd done all the hard work, now it was time to make a final decision. From looking at the purpose of my pen, and all the pros and cons, I opted for a ballpoint and rollerball. 
Firstly, I wanted an everyday pen so I chose an inexpensive Cross ballpoint pen. I decided I would use the Cross rollerball when sharing notes with my bosses. This way, it would last longer, but produce neat notes. This new professional also had the same idea:
I found an affordable rollerball pen on Dayspring Pens. I opted for the Cross Classic Century design, but with a slimmer barrel for my small hands. This Cross rollerball has a lovely 23kt gold plated accent but is also available in a beautiful chrome finish.
I decided to get my ballpoint pen in the same Cross Classic Century design so they would look like a set. 

Cross Classic Century Ballpoint Pen - Black
Even better, I took advantage of the free engraving service and had my name printed on the cap. 
Weighing only half an ounce, this Cross pen is ideal for daily use and there is little risk of hand fatigue. 
This happy customer found the Cross Classic Century ideal:
I'm so happy with my Cross pen and continue to receive compliments every day! 
Cross manufacture some of the most prestigious writing tools around, so don't hesitate, order today!